Voodoo Lab Micro Vibe Pedal
Guitars and Accessories > Vibe Pedals > Item 8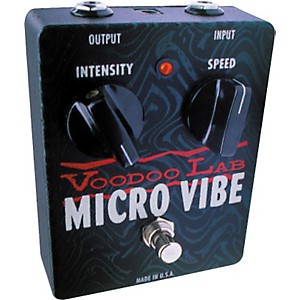 Voodoo Lab Micro Vibe Pedal
by Voodoo Lab
List Price: $219.0
$149 At Guitar Center
on 2-23-2018.



Product Description:
Voodoo Lab's Micro Vibe pedal delivers the same juicy, swinging tone as the original 1968 Uni-Vibe. Its unique sound achieved legendary status when Jimi Hendrix used the effect on his Band of Gypsys record, and his landmark Woodstock performance of "The Star Spangled Banner." Guitar heroes like Robin Trower, David Gilmour, and Stevie Ray Vaughan also helped make the phase-based effect a tone classic.

Completely analog, Micro Vibe features the same sinewave oscillator, incandescent lamp, and photocells, which gave the original its groovy swagger. Thanks to the tone guru's at Voodoo Lab, Micro Vibe gives you the same lush, psychedelic colors of the original, but in an ultra-compact, pedal board friendly 9V stompbox! Micro Vibe features true bypass switching, a heavy-duty metal switch, and on/off status LED. Hand built in the U.S.A. and fully backed by a 5-year warranty.

Voodoo Lab Micro Vibe Pedal
List Price: $219.0
Available from Guitar Center
Price: $149
Updated on 2-23-2018.

---
Guitars and Accessories > Vibe Pedals > Item 8
---
NOTICE: All product prices, availability, and specifications
are subject to verification by their respective retailers.

Copyright © 2015 Dominant Systems Corporation
info@guitarpeddler.com Privacy Policy
Last Modified : 2-23-2018